Library for creating HTML listing / table / data grid
Project description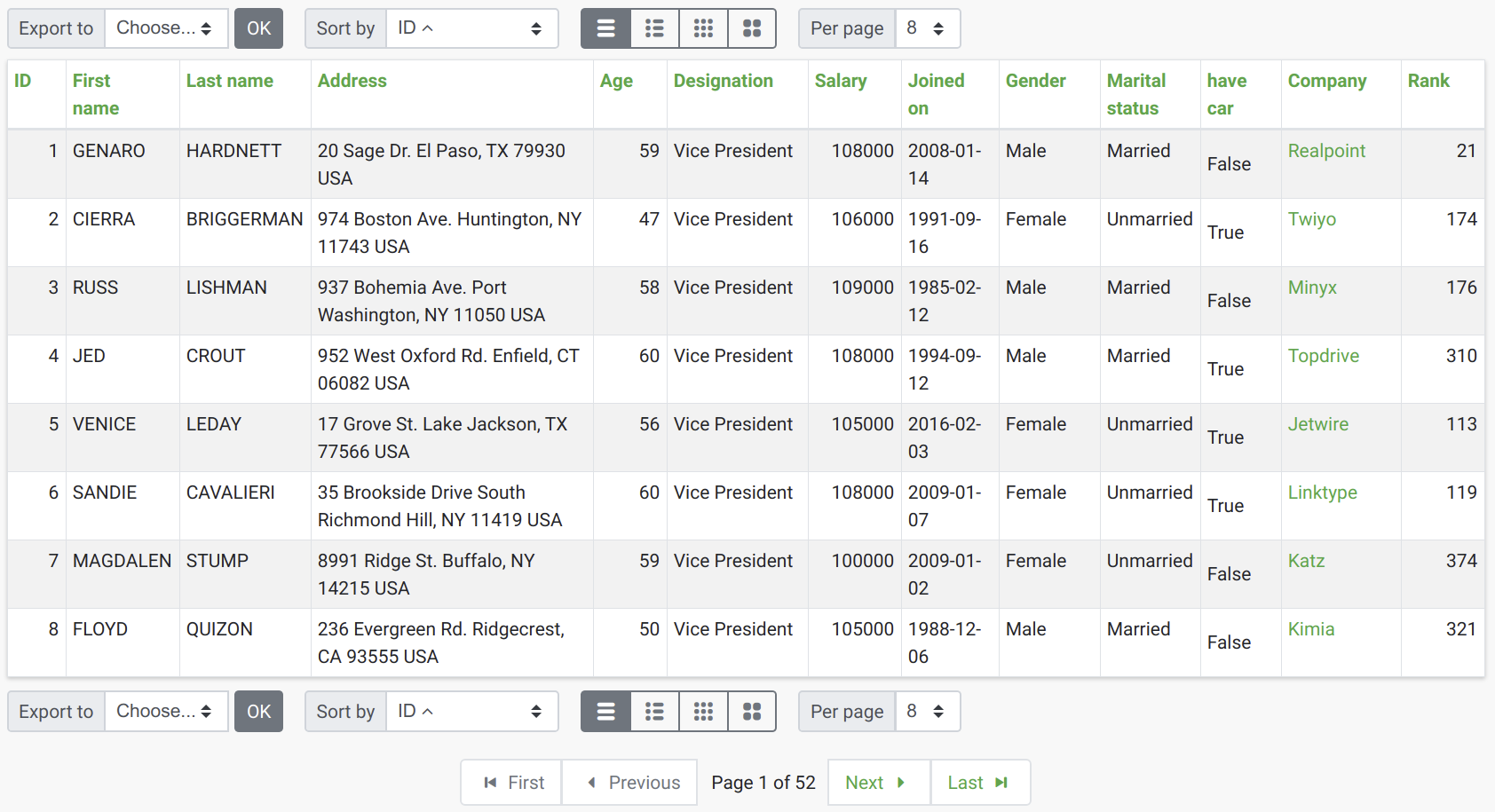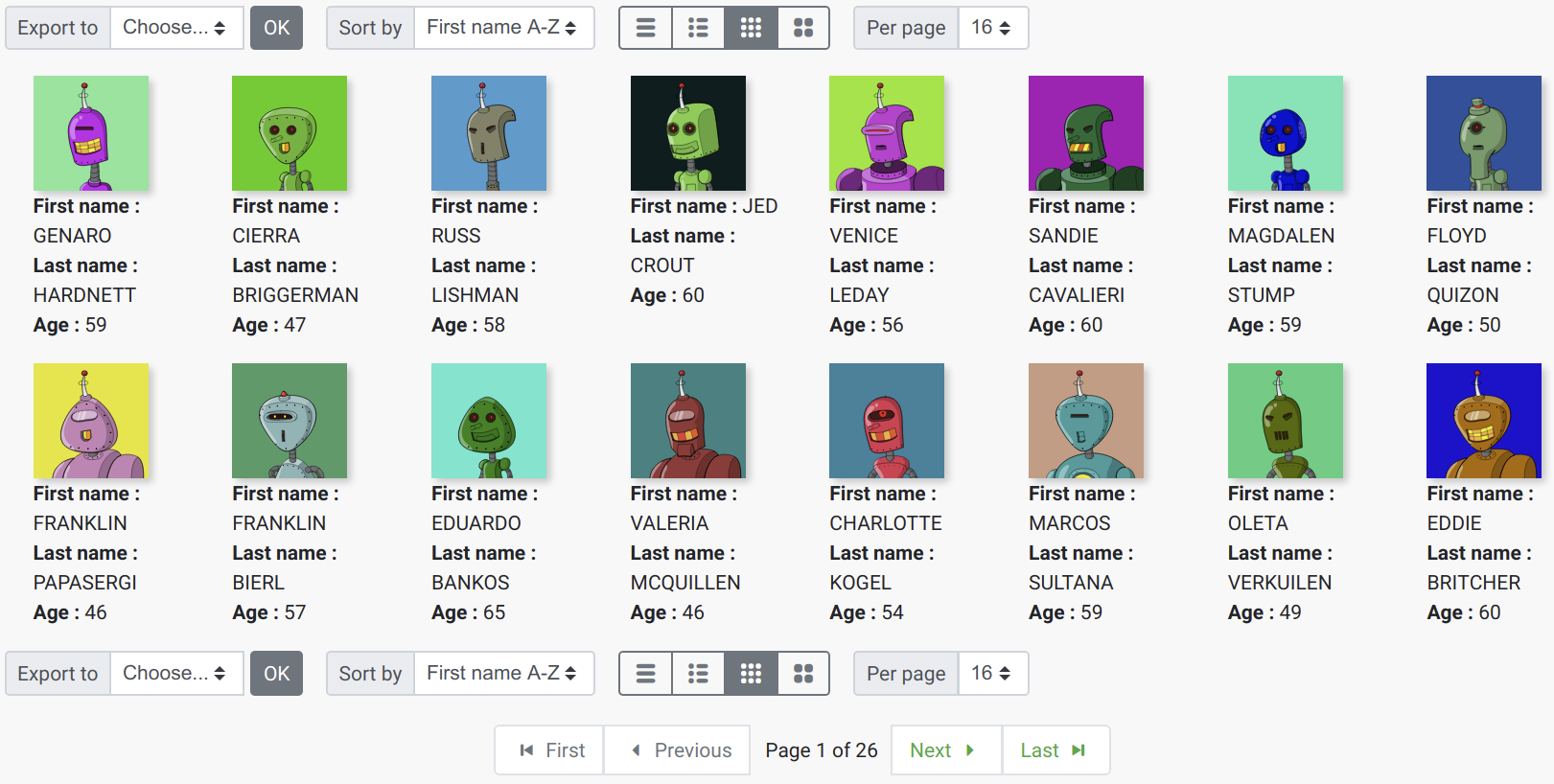 Django app for building HTML listings / tables, it includes many features :
Any iterable, Django QuerySet or model can be used.

Most listings can be configured into a template file without touching a python file

A class-based ListingView is provided if you want to code a listing at python side

It as an Ajax mode to save requests to the server

Uses JQuery if ajax is activated

Customized for Bootstrap by default, but can be easily customized in many way (templates, icons, etc…)

You can select columns to display, columns title, default sorting etc..

Pagination is highly customizable (buttons to display, goto page, ellipsis, icons et labels)

Rows can be <div> instead of <tr>, so it is possible to format data in many ways

A lot of column types are provided, they are automatically created when a QuerySet or a model is provided

Columns are class-bases and one can create custom ones

Columns manage One-to-many, Many-to-many and foreign relations

Provides aggregation columns : sum, avg, min, max values

Provides page-level and global aggregation : sum, avg, min, max values displayed at listing last row

Provides columns to make a link to the object, a custom link, checkbox, select box, text input…

Provides "action column" that comes with many actions : show, edit, delete, move up, move down…

is able to manage multiple variations to present data in multiple way at the same place (text only listing, text+image listing, image only listing for example)

Uses Django translation framework : one can translate the listing as needed

Toolbars can be added at the top and/or at the bottom to make actions

Built-in toolbar action are : sorting, select a listing variation, number of rows per page, export data. They are customizable.

Toolbar items are class-based : one can create a custom one easily

django-listing can automatically create a filter form (aka search form)

Listing rows can be selectable in order to apply some actions

Listings can be editable for mass updates

django-listing can automatically create a form for inserting data to database

One can upload files/images into a listing, it uses DropzoneJS (Work in progress)

ListingView can manage itself database inserting, editing, deleting, filtering, uploads and actions : no need to develop any code for that.

django-listing comes with hundreds of icons as a scalable font

django-listing is faster than django-table2
Showcase
A demo is included in source code, you will need poetry to install python environment:
curl -sSL https://install.python-poetry.org | python3 -
To install the python envionment, go to django-listing source code root directory, then:
cd showcase
poetry install
Check you are in showcase/ directory, then start the Django from poetry environment:
poetry run python manage.py runserver 8123
A sqlite database is already included, you do not have to make any migration, just open your brower at http://localhost:8123
License
Django-listing is licensed under the GPLv3 license for all open source applications. A commercial license is required for all commercial applications or non-open applications
See LICENSE.rst file for more informations.
0.5.9 (2023-09-26)
Better focus when using Select2 widget
0.5.8 (2023-09-22)
Strip HTML tags on data exports
0.5.7 (2023-09-21)
Fix exception management for Django 4

Add add_one_day option on DateFilter
0.5.5 (2023-09-07)
Fix unexpected SQL query with ListingVariations
0.5.4 (2023-09-06)
Data Export works with active filters and ajax=True
0.5.3 (2023-08-23)
Add filter_queryset_method filter attribute
0.5.1 (2023-07-06)
Add links in ManyColumn if get_absolute_url() exists on related objects
0.5.0 (2023-07-05)
Add __url_func parameter for edit/delete/view action buttons
0.0.28 (2023-06-27)
Add AutocompleteMultipleForeignKeyFilter
0.0.27 (2023-06-26)
Add ForeignKeyFilter and AutocompleteForeignKeyFilter
0.0.26 (2023-06-21)
Added edit and delete action buttons

Fixed action button "see details" modal
0.0.24 (2023-06-20)
Improved CSS for small device

Auto-detect many-to-many model fields if present in select_columns
0.0.22 (2023-06-19)
Improved radio and checkbox in filter form
0.0.18 (2023-05-05)
Use scss to generate css files
0.0.17 (2023-04-26)
Added showcase with many demo pages see showcase/README.rst
0.0.14 (2022-10-24)
Fixed bad form closing

Fixed ListingVariation with Ajax
0.0.12 (2022-07-04)
Added django-like filter syntax for sequences
0.0.11 (2022-06-02)
Added JsonDateTimeColumn class
0.0.10 (2022-05-17)
Added support for python 3.10
0.0.9 (2021-11-09)
Added possibility to create custom action button linked with listing method
Project details
Download files
Download the file for your platform. If you're not sure which to choose, learn more about installing packages.
Source Distribution
Built Distribution
Close
Hashes for django_listing-0.5.9-py2.py3-none-any.whl
Hashes for django_listing-0.5.9-py2.py3-none-any.whl

| Algorithm | Hash digest | |
| --- | --- | --- |
| SHA256 | f58567e3f9d766dbe1e4a18c353de8760243d2bdc573e0b59efca352140ba056 | |
| MD5 | 849db177b89872478c486278233920a7 | |
| BLAKE2b-256 | 9c3d93592899e9460da11cd1c8aed38fc7b76b763b2adcc743b37ced46550db4 | |