Flamegraphs for Flask Debug Toolbar
Project description
Based on the awesome [djdt-flamegraph](https://github.com/23andMe/djdt-flamegraph) project.
Get a flame graph of the current request.
Screenshot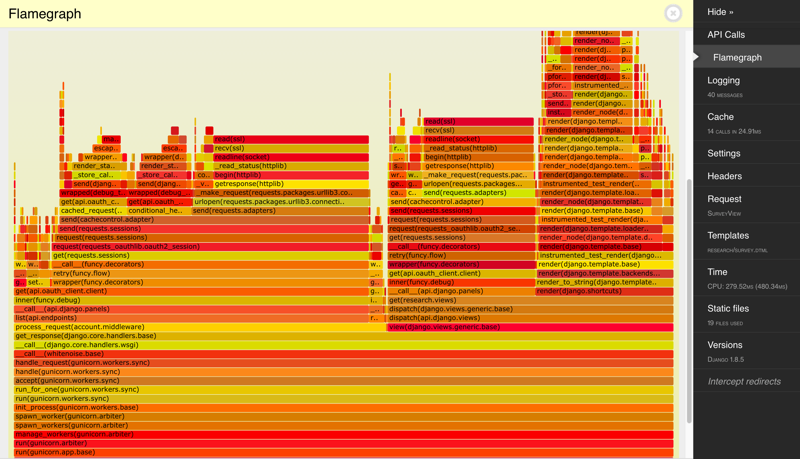 Install
Add flask_debugtoolbar_flamegraph to your requirements.txt.

Add flask_debugtoolbar_flamegraph.FlamegraphPanel to DEBUG_TB_PANELS.

Run your server with python manage.py runserver --nothreading --noreload
Notes
ValueError at /: signal only works in main thread: Flame graphs can only be generated in a single threaded server.

Flame graphs are disabled by default. You'll have to enable it by clicking the checkbox next to it in the Debug Toolbar.

Probably won't work on Windows.
Project details
Download files
Download the file for your platform. If you're not sure which to choose, learn more about installing packages.
Source Distribution
Built Distribution
Close
Hashes for flask_debugtoolbar_flamegraph-0.1.2.tar.gz
Hashes for flask_debugtoolbar_flamegraph-0.1.2.tar.gz

| Algorithm | Hash digest | |
| --- | --- | --- |
| SHA256 | 263e138477285bb3b6d21d9c2a15f080505cd2df0f885fa812f00d8f458625ba | |
| MD5 | f66c7da7a46b4ed6f0042b972cee869f | |
| BLAKE2b-256 | f091e052955b6331455596fa4a9d7f2036508f73e311cf33ed7accd64c252dda | |
Close
Hashes for flask_debugtoolbar_flamegraph-0.1.2-py2.py3-none-any.whl
Hashes for flask_debugtoolbar_flamegraph-0.1.2-py2.py3-none-any.whl

| Algorithm | Hash digest | |
| --- | --- | --- |
| SHA256 | 4959d645b1b31d26463ed95b357333e8d6b35bae7df56c201c154252953a10c0 | |
| MD5 | 6fc5ac6903292478a95d4a1eb6cdd625 | |
| BLAKE2b-256 | 0dab3ad66752fb6c046155a2b09ba565fb8331691af5d245af837dd66c1ebe90 | |