A Gtk+ time tracking application
Project description
GTimeLog is a simple app for keeping track of time.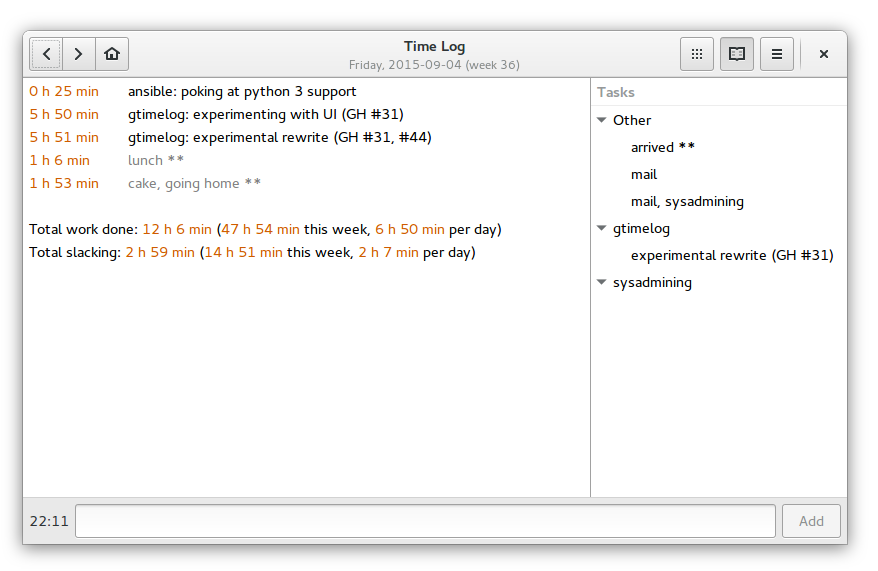 GTimeLog is packaged for Debian and Ubuntu:
sudo apt-get install gtimelog
For Ubuntu, a newer version can usually be found in the PPA:
You can fetch the latest released version from PyPI
$ pip install gtimelog
$ gtimelog
You can run it from a source checkout without an explicit installation step:
$ git clone https://github.com/gtimelog/gtimelog
$ cd gtimelog
$ ./gtimelog
System requirements:
Python (2.7 or 3.3+)

PyGObject

gobject-introspection type libraries for GTK+, Pango
This is work in progress:
GTimeLog was mainly written by Marius Gedminas <marius@gedmin.as>.
Barry Warsaw <barry@python.org> stepped in as a co-maintainer when Marius burned out. Then Barry got busy and Marius recovered.
Many excellent contributors are listed in CONTRIBUTORS.rst
Project details
Download files
Download the file for your platform. If you're not sure which to choose, learn more about installing packages.
Source Distribution
Built Distributions
Close
Hashes for gtimelog-0.10.1-py3-none-any.whl
Hashes for gtimelog-0.10.1-py3-none-any.whl

| Algorithm | Hash digest | |
| --- | --- | --- |
| SHA256 | bf9434fa72cb1efa756536a60d40c1432bf5adb6d7724551e6955587da2b4b58 | |
| MD5 | c3268bc597cfb5ae8cacfc5b4281a807 | |
| BLAKE2b-256 | 013eb69b7c9f65a549b3aa24e5235b2d53c84028d807b2cc5a1ebf6cb6bcf0eb | |
Close
Hashes for gtimelog-0.10.1-py2-none-any.whl
Hashes for gtimelog-0.10.1-py2-none-any.whl

| Algorithm | Hash digest | |
| --- | --- | --- |
| SHA256 | c313bb367185b31e610a0b5c78e6064b10447f6f264271969567d5daa5feba30 | |
| MD5 | 21926beb54e6f1a02ddfab21a1d18730 | |
| BLAKE2b-256 | 66e5a007fe03b6d7ac3abaf8fe2ec315154a466d5ad8e2596e6db6d35f960de1 | |