A Gtk+ time tracking application
Project description

GTimeLog is a simple app for keeping track of time.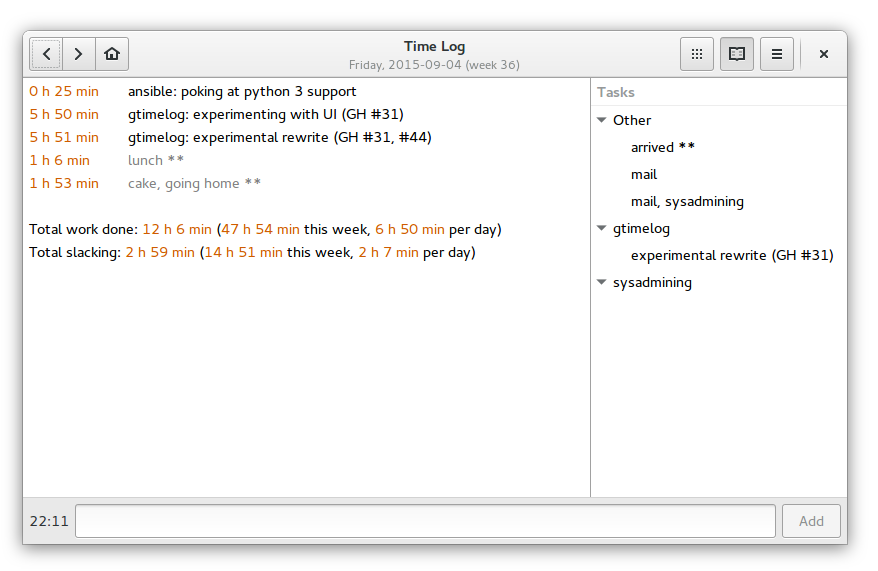 GTimeLog is packaged for Debian and Ubuntu:
sudo apt-get install gtimelog
For Ubuntu, a newer version can usually be found in the PPA:
You can fetch the latest released version from PyPI
$ pip install gtimelog
$ gtimelog
You can run it from a source checkout without an explicit installation step:
$ git clone https://github.com/gtimelog/gtimelog
$ cd gtimelog
$ ./gtimelog
System requirements:
Python (2.6, 2.7 or 3.3)

PyGObject

gobject-introspection type libraries for GTK+, Pango
This is work in progress:
GTimeLog was mainly written by Marius Gedminas <marius@gedmin.as>.
Barry Warsaw <barry@python.org> stepped in as a co-maintainer when Marius burned out. Then Barry got busy and Marius recovered.
Many excellent contributors are listed in CONTRIBUTORS.rst
Adding new entries didn't update total weekly numbers (GH: #28).
Fix setup.py to work on Python 3 when your locale is not UTF-8 (LP: #1263772).

Note that Gtk+ 2.x is no longer supported (this regressed somewhere between 0.9.0 and 0.9.1, but I didn't notice because I have no access to a system that has Gtk+ 2.x).

Fix two Gtk-CRITICAL warnings on startup (GH: #14).

Fix Unicode warning when adding entries (GH: #20).

Speed up entry addition (GH: #21).

Fix Unicode error when navigating history with PageUp/PageDown (GH: #22).

Update current task time when autoreloading (GH: #23).

Fix 'LocaleError: unknown encoding:' on Mac OS X (GH: #25).

Fix 'TypeError: unorderable types: NoneType() < str()' in summary view on Python 3 (GH: #26).
Project details
Download files
Download the file for your platform. If you're not sure which to choose, learn more about installing packages.
Source Distribution