A CLI version of the Herbert game from Imagine Cup.
Project description
Herbert is a game I first saw in the Imagine Cup 2008 Algorithm Invitational.
The game requires you to solve a series of levels by writing small programs to control a robot named Herbert. The simpler and more elegant your solution, the more points you get.
It challenges your ability to see patterns and create algorithms to produce those patterns.
Here's my clone of Herbert.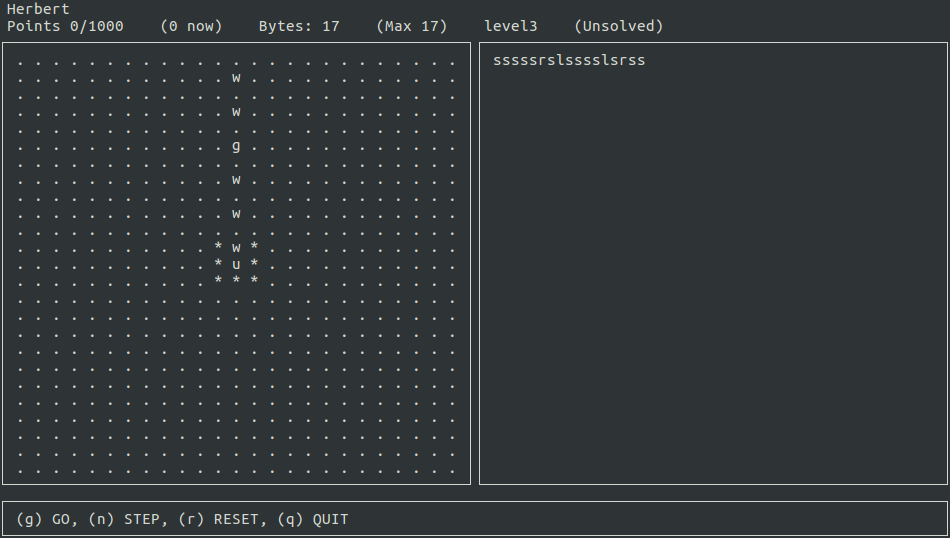 Enjoy!
Project details
Download files
Download the file for your platform. If you're not sure which to choose, learn more about installing packages.
Source Distribution
Built Distribution
Close
Hashes for herbert_python-0.0.1a3-py3-none-any.whl
Hashes for herbert_python-0.0.1a3-py3-none-any.whl

| Algorithm | Hash digest | |
| --- | --- | --- |
| SHA256 | 11a8611eb68fe243b5c668fe43ef6b7ae7d919b99a5fee2625fc33f4382302c0 | |
| MD5 | b9554f1cdd3a6152e749e7013441972d | |
| BLAKE2b-256 | fc6d72e1267572fb3a0a867b696fbc12155af79b67dedb0b4c839731db5e7be5 | |