Neural MMO is a massively multiagent environment for artificial intelligence research inspired by Massively Multiplayer Online (MMO) role-playing games
Project description
Welcome to the Platform!
Neural MMO is a massively multiagent environment for artificial intelligence research inspired by Massively Multiplayer Online (MMO) role-playing games. The project is under active development with major updates every 3-6 months. This README is a stub -- all of our Documentation is hosted by github.io.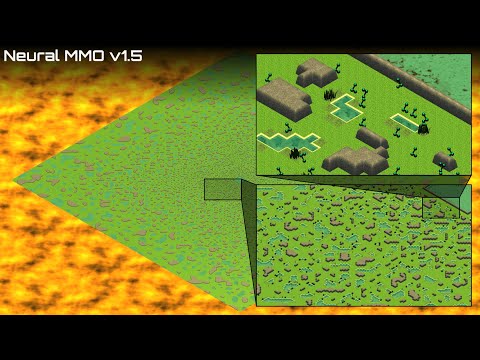 Project details
Download files
Download the file for your platform. If you're not sure which to choose, learn more about installing packages.
Source Distribution
Built Distribution
Close
Hashes for neural_mmo-1.5.2.2-py3-none-any.whl
Hashes for neural_mmo-1.5.2.2-py3-none-any.whl

| Algorithm | Hash digest | |
| --- | --- | --- |
| SHA256 | 981d0ff336ce2831d2020a7913da232c898ec237a4bb104c5351bb620101e747 | |
| MD5 | c97eddc1f037e053ee213146575c2b38 | |
| BLAKE2b-256 | a086aaf7cdaf769f9c65a9b00c5572d3cfe818250dbd25701d3bd21bc55bf9c4 | |