NVIDIA DALI TensorFlow plugin for CUDA 11.0. Git SHA: 12a2d1dad3dcb41edabe46ce574f83244c8efd3c
Project description
The TensorFlow plugin enables usage of DALI with TensorFlow.
The NVIDIA Data Loading Library (DALI) is a library for data loading and pre-processing to accelerate deep learning applications. It provides a collection of highly optimized building blocks for loading and processing image, video and audio data. It can be used as a portable drop-in replacement for built in data loaders and data iterators in popular deep learning frameworks.
Deep learning applications require complex, multi-stage data processing pipelines that include loading, decoding, cropping, resizing, and many other augmentations. These data processing pipelines, which are currently executed on the CPU, have become a bottleneck, limiting the performance and scalability of training and inference.
DALI addresses the problem of the CPU bottleneck by offloading data preprocessing to the GPU. Additionally, DALI relies on its own execution engine, built to maximize the throughput of the input pipeline. Features such as prefetching, parallel execution, and batch processing are handled transparently for the user.
In addition, the deep learning frameworks have multiple data pre-processing implementations, resulting in challenges such as portability of training and inference workflows, and code maintainability. Data processing pipelines implemented using DALI are portable because they can easily be retargeted to TensorFlow, PyTorch, MXNet and PaddlePaddle.
For more details please check the latest DALI Documentation.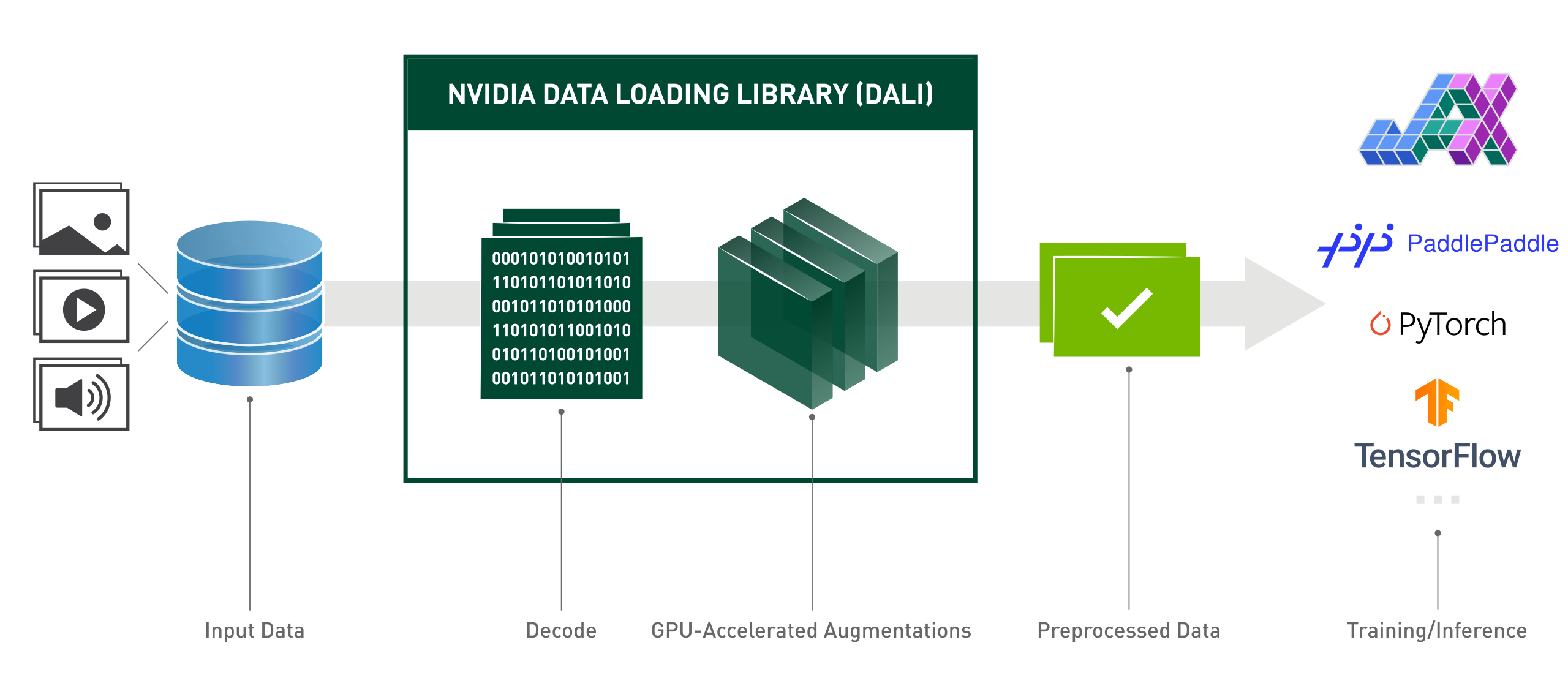 Project details
Download files
Download the file for your platform. If you're not sure which to choose, learn more about installing packages.
Source Distribution
Close
Hashes for nvidia-dali-tf-plugin-cuda110-1.30.0.tar.gz
Hashes for nvidia-dali-tf-plugin-cuda110-1.30.0.tar.gz

| Algorithm | Hash digest | |
| --- | --- | --- |
| SHA256 | e31c1e63a6e63c0797378c60c8a3529aa0136cc04625981b29fd0fc74b4efda7 | |
| MD5 | fe516b19d9ab4c81f1831e351041b81e | |
| BLAKE2b-256 | fe40e95a99016fe06d497fa7a69eef7ef3dd2b04c494623127aab171fd07e15b | |