Disable indexing of attachments
Project description
This module disables the indexation of attachments content.
Attachment model has a field called 'index_content' where the content of the attachment is read and stored directly in the database. This field is useful in order to search content of a file. But most of cases it is not used, so, you can install this module in order to:
Avoid Duplicating Data: Because indexation extracts text content from files and put it on the database in order it could be searched, but this implies you have the file data in your filestore directory, and also part (or sometimes all) of that data in your database too.

Improve Performance: Since not all indexed files are plain text, they require extra process to read them.
Maybe you could try to uninstall modules like document in order to disable its indexation features, but you could face the uninstallation of other modules that could be useful for you (e.g, hr_recruitment depends on that).
But even if you don't have document installed, you'd still have plain text content indexation by default. As you can see in this SQL query results, indexation is active even without it: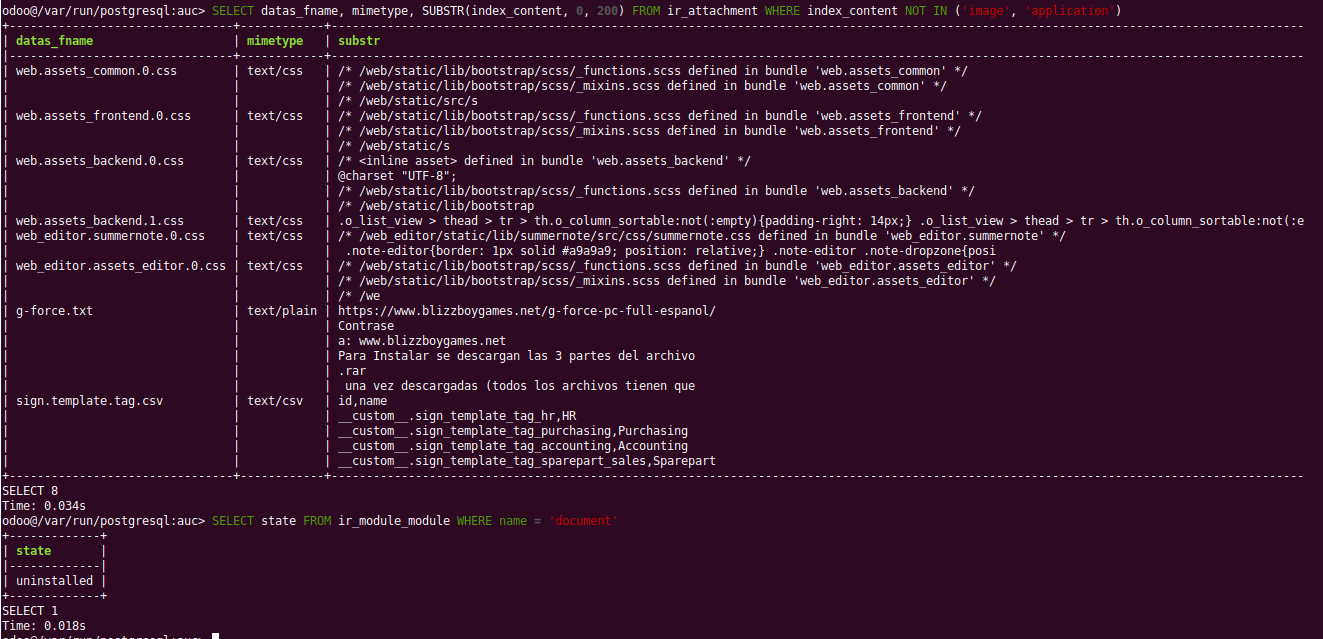 Using this module you will not require to uninstall any module to disable the attachment content indexation, because we directly disable it at ir.attachment base.
Also, after the installation, the index_content field on attachments already recorded in database will be cleared.
Table of contents
Bugs are tracked on GitHub Issues. In case of trouble, please check there if your issue has already been reported. If you spotted it first, help us to smash it by providing a detailed and welcomed feedback.
Do not contact contributors directly about support or help with technical issues.
This module is maintained by the OCA.

OCA, or the Odoo Community Association, is a nonprofit organization whose mission is to support the collaborative development of Odoo features and promote its widespread use.
Current maintainers:
This module is part of the OCA/server-tools project on GitHub.
You are welcome to contribute. To learn how please visit https://odoo-community.org/page/Contribute.
Project details
Download files
Download the file for your platform. If you're not sure which to choose, learn more about installing packages.
Source Distributions
Built Distribution
Close
Hashes for odoo12_addon_attachment_unindex_content-12.0.1.0.0.99.dev5-py3-none-any.whl
Hashes for odoo12_addon_attachment_unindex_content-12.0.1.0.0.99.dev5-py3-none-any.whl

| Algorithm | Hash digest | |
| --- | --- | --- |
| SHA256 | f1684c25c1ab52f19e1448b368e2572e47d03564f87610a86afd1f3baceca1fe | |
| MD5 | 1fe7a8fbfafbc5076d4ddd71462f7b20 | |
| BLAKE2b-256 | 797a8dfadc3722698121e15374797c2019af364ac4d5010ca7d8966db22980cf | |