Variable quantity in contract recurrent invoicing
Project description
With this module, you will be able to define in recurring contracts some lines with variable quantity according to a provided formula.
Table of contents
Go to Invoicing > Configuration > Contracts > Formulas (quantity).

Define any formula based on Python code that stores at some moment a float/integer value of the quantity to invoice in the variable 'result'.

You can use these variables to compute your formula:

env: Environment variable for getting other models.

context: Current context dictionary.

user: Current user.

line: Contract recurring invoice line that triggers this formula.

contract: Contract whose line belongs to.

invoice: Invoice (header) being created.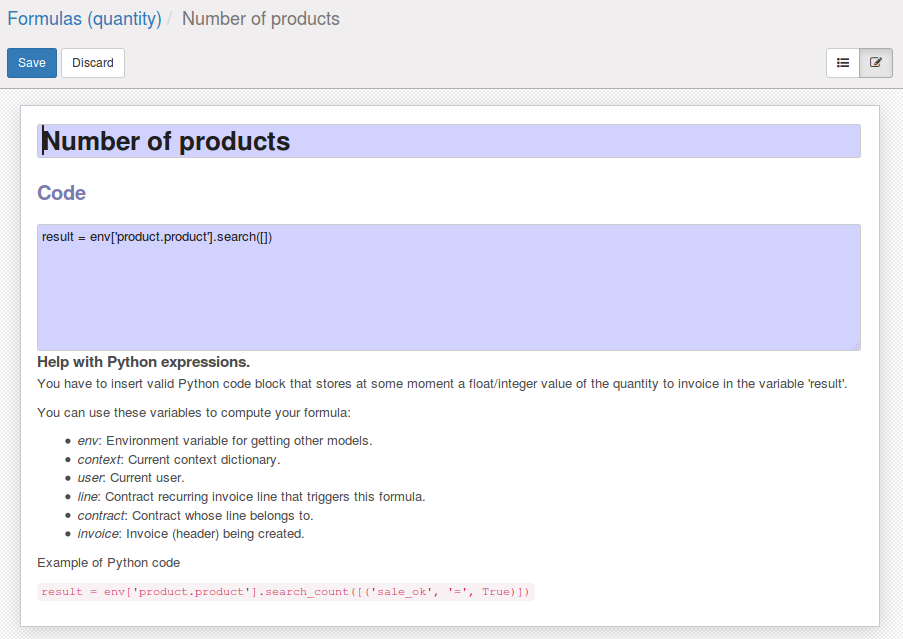 To use this module, you need to:
Go to Invoicing > Sales > Contracts and select or create a new contract.

Check Generate recurring invoices automatically.

Add a new recurring invoicing line.

Select "Variable quantity" in column "Qty. type".

Select one of the possible formulas to use (previously created).
Bugs are tracked on GitHub Issues. In case of trouble, please check there if your issue has already been reported. If you spotted it first, help us to smash it by providing a detailed and welcomed feedback.
Do not contact contributors directly about support or help with technical issues.
This module is maintained by the OCA.

OCA, or the Odoo Community Association, is a nonprofit organization whose mission is to support the collaborative development of Odoo features and promote its widespread use.
This module is part of the OCA/contract project on GitHub.
You are welcome to contribute. To learn how please visit https://odoo-community.org/page/Contribute.
Project details
Download files
Download the file for your platform. If you're not sure which to choose, learn more about installing packages.
Source Distributions
Built Distribution
Close
Hashes for odoo14_addon_contract_variable_quantity-14.0.1.0.1.dev11-py3-none-any.whl
Hashes for odoo14_addon_contract_variable_quantity-14.0.1.0.1.dev11-py3-none-any.whl

| Algorithm | Hash digest | |
| --- | --- | --- |
| SHA256 | e0e837564a2bc17a81be253ebbe5c79673ba5dc2f0fc794bd20ebe9fb106ea2b | |
| MD5 | f9f0af2ccb50dc043b83227b8954c617 | |
| BLAKE2b-256 | 2f7a3bb28208dfdf6c777520fb6f7a475c3e2062def6b8b2a476f79b3eb82755 | |