Python version of original Matlab DeltaRCM
Project description
pyDeltaRCM is a computationally efficient, free and open source, and easy-to-customize numerical delta model based on the original DeltaRCM model design (Matlab deltaRCM model by Man Liang; Liang et al., 2015). pyDeltaRCM delivers improved model stability and capabilities, infrastructure to support exploration with minimal boilerplate code, and establishes an approach to extending model capabilities that ensures reproducible and comparable studies.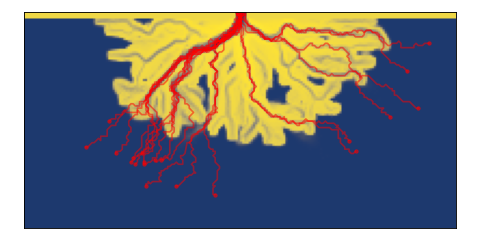 Installation
See our complete installation guide, especially if you are a developer planning to modify or contribute code (developer installation guide), or if you are new to managing Python venv or conda environments.
For a quick installation into an existing Python 3.x environment:
$ 

pip

 

install

 

pyDeltaRCM
Project details
Download files
Download the file for your platform. If you're not sure which to choose, learn more about installing packages.
Source Distribution
Built Distribution
Close
Hashes for pyDeltaRCM-2.1.4-py3-none-any.whl
Hashes for pyDeltaRCM-2.1.4-py3-none-any.whl

| Algorithm | Hash digest | |
| --- | --- | --- |
| SHA256 | 1bc5dd81af3c2ecb3cd0909baff2da91c05019c5ed8673e213ac3b1de898c531 | |
| MD5 | ecd976003f13204ed49dcba5f3463c67 | |
| BLAKE2b-256 | b7f869e0d26734fc185e1dbfa10c7e0877941077b093442506df795ea7b38df9 | |