Advanced Python dictionaries with dot notation access
Project description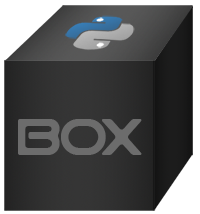 from

 

box

 

import

 

Box





movie_box

 

=

 

Box

({

 

"Robin Hood: Men in Tights"

:

 

{

 

"imdb stars"

:

 

6.7

,

 

"length"

:

 

104

 

}

 

})





movie_box

.

Robin_Hood_Men_in_Tights

.

imdb_stars




# 6.7
Box will automatically make otherwise inaccessible keys safe to access as an attribute. You can always pass conversion_box=False to Box to disable that behavior. Also, all new dict and lists added to a Box or BoxList object are converted automatically.
There are over a half dozen ways to customize your Box and make it work for you.
Check out the new Box github wiki for more details and examples!
Project details
Download files
Download the file for your platform. If you're not sure which to choose, learn more about installing packages.
Source Distribution
Built Distribution
Close
Hashes for python_box-5.4.1-py3-none-any.whl
Hashes for python_box-5.4.1-py3-none-any.whl

| Algorithm | Hash digest | |
| --- | --- | --- |
| SHA256 | 60ae9156de34cf92b899bd099580950df70a5b0813e67a3310a1cdd1976457fa | |
| MD5 | c8015e71639dd3e9a59613c747382dcb | |
| BLAKE2b-256 | dbe8cf1e8543ee7c9cc9b858bf033870c669a91f0fb0e4901a474eff01de6d1e | |