RepulsiveRuby: A game made with Pygame
Project description
RepulsiveRuby
Overview
This is a game I made with Python and Pygame in 2011.
All sounds and images are created by me.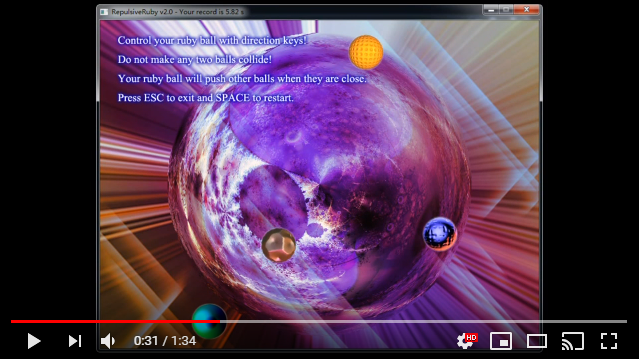 Play the game
Install with pip
First install the game with pip:
pip install repulsiveruby

Then start the game:
python -m repulsiveruby

Run source code
Download the code from GitHub and cd into it:
git clone git@github.com:wq2012/RepulsiveRuby.git

cd RepulsiveRuby

Start the game with:
python repulsiveruby

Project details
Download files
Download the file for your platform. If you're not sure which to choose, learn more about installing packages.
Source Distribution
Built Distribution
Close
Hashes for repulsiveruby-2.1.5-py3-none-any.whl
Hashes for repulsiveruby-2.1.5-py3-none-any.whl

| Algorithm | Hash digest | |
| --- | --- | --- |
| SHA256 | 16b1fb5d5cde2b85fb37c59f7a11a107c3f300f764985b6882baf9d749e76261 | |
| MD5 | c51b7d6a2fb852e56f965d6efe7ffa03 | |
| BLAKE2b-256 | b338c04d0cb029bcb97968e42f19e2ec1e88dc7993e1973b7979b11f291555ad | |