Instant search for Sphinx
Project description
This extension modifies the search box in Sphinx documentation to show instant results as you type. It's particularly suited for searching through APIs.
To get started, $ pip install sphinxcontrib-lunrsearch and then add 'sphinxcontrib.lunrsearch' to the list of extensions in your Sphinx conf.py file.
Options
The following options can be set in conf.py:
lunrsearch_highlight: bool

Whether to highlight the seach term after navigating to a results. The default is False.
Example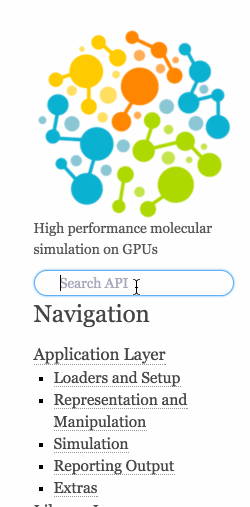 Project details
Download files
Download the file for your platform. If you're not sure which to choose, learn more about installing packages.
Source Distribution
Built Distribution
Close
Hashes for sphinxcontrib-lunrsearch-0.4.tar.gz
Hashes for sphinxcontrib-lunrsearch-0.4.tar.gz

| Algorithm | Hash digest | |
| --- | --- | --- |
| SHA256 | 2c0c572c0fdf0c5d24400b43ff1d886cac9ceb21b0ff29e753c3b9f4f2c90c02 | |
| MD5 | 67b11a729f68a28ef1a5aafb235db176 | |
| BLAKE2b-256 | d4e6e7f4a423eeb4eb2dffc926f282ca244b66a58b51629d7a2c1e0e9da079de | |
Close
Hashes for sphinxcontrib_lunrsearch-0.4-py2.py3-none-any.whl
Hashes for sphinxcontrib_lunrsearch-0.4-py2.py3-none-any.whl

| Algorithm | Hash digest | |
| --- | --- | --- |
| SHA256 | c8ed5f5bb106589b123a3ff7458e32404c5b10978578c64f759a02a7040fceb7 | |
| MD5 | 94583854b032aa151dbc704ca5ebe7e9 | |
| BLAKE2b-256 | 33ab0da92aa00c2d16fa88884e9888f872da1f12d73d9506f883a0a9c2f15d11 | |