Suricata Signatures Language Server for the Language Server Protocol
Project description
Suricata Language Server is an implementation of the Language Server Protocol for Suricata signatures. It adds syntax check and hints as well as auto-completion to your preferred editor once it is configured.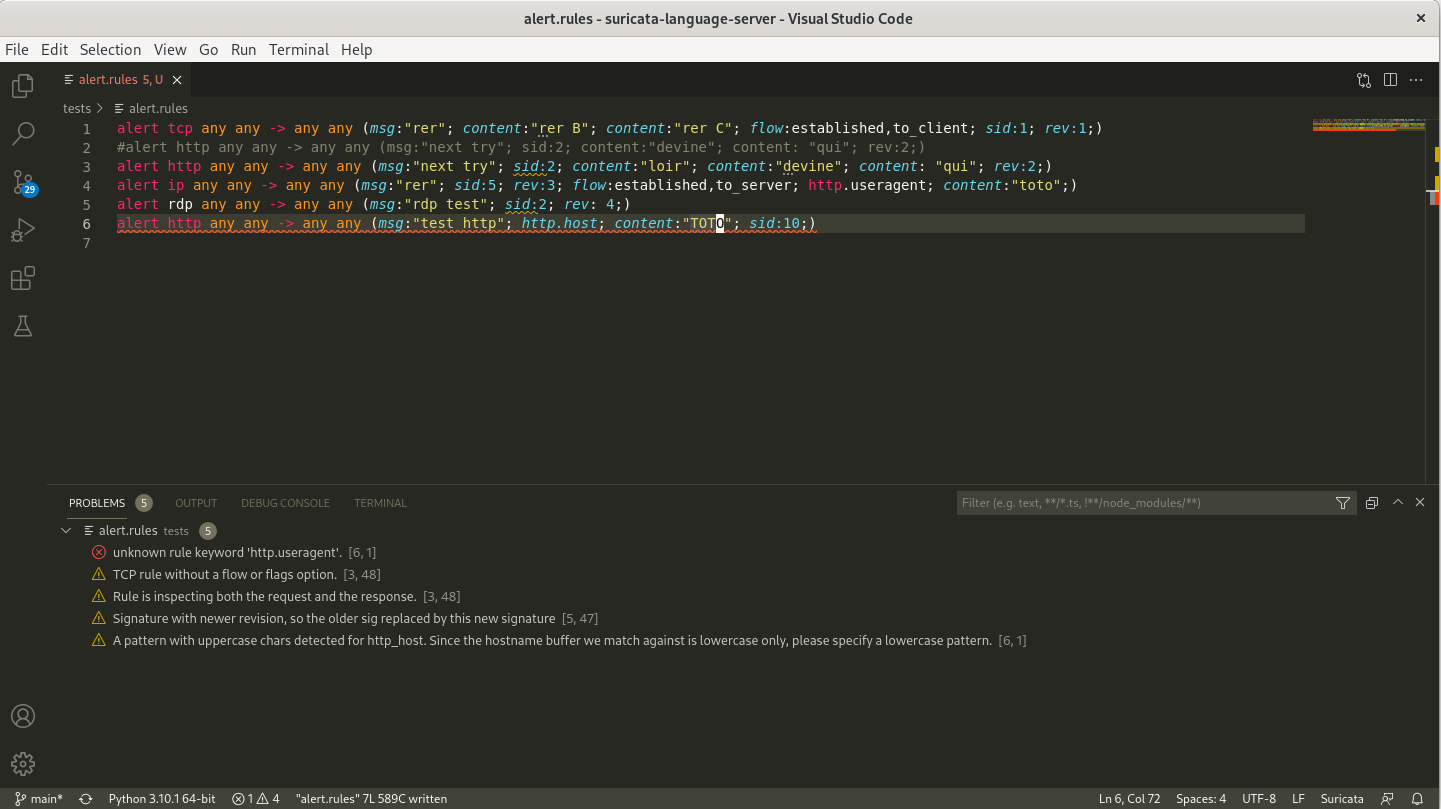 Suricata Language Server requires Python and a Suricata binary.
The code is based on Chris Hansen's fortran language server and incorporate code from Stamus Networks' scirius.
Project details
Download files
Download the file for your platform. If you're not sure which to choose, learn more about installing packages.
Source Distribution
Built Distribution
Close
Hashes for suricata-language-server-0.9.0.tar.gz
Hashes for suricata-language-server-0.9.0.tar.gz

| Algorithm | Hash digest | |
| --- | --- | --- |
| SHA256 | 5c8f36cc4b27038b9685908a85dc8158fabe3fc6fe6a7660f8ca9989c84bf828 | |
| MD5 | b2b145409099c2fb214a778a2b363fb1 | |
| BLAKE2b-256 | 1a17b2871cc0c16d075ae8572504bd876975f6e1eb0cf20c6ee77d0636ea1d3b | |
Close
Hashes for suricata_language_server-0.9.0-py3-none-any.whl
Hashes for suricata_language_server-0.9.0-py3-none-any.whl

| Algorithm | Hash digest | |
| --- | --- | --- |
| SHA256 | bdc6a1ab07a96707d13ce108d8da82a17a542d59b23e0667bf8bda1db089e2ad | |
| MD5 | 89fef44a62d2175dc07462ff3c03599d | |
| BLAKE2b-256 | 594190bf59fe842f69f38f43fa241186503059cad44b47d344a0c66dd7751ca2 | |