Add preview panels for meta data to wagtail
Project description
wagtail meta preview
Current supported versions
Wagtail Meta Preview requires Wagtail 4.1+
Preview
Wagtail Meta Preview provides panels for previewing Facebook sharing, Twitter sharing and Google search results in the Wagtail admin. Example of how the Facebook share looks like: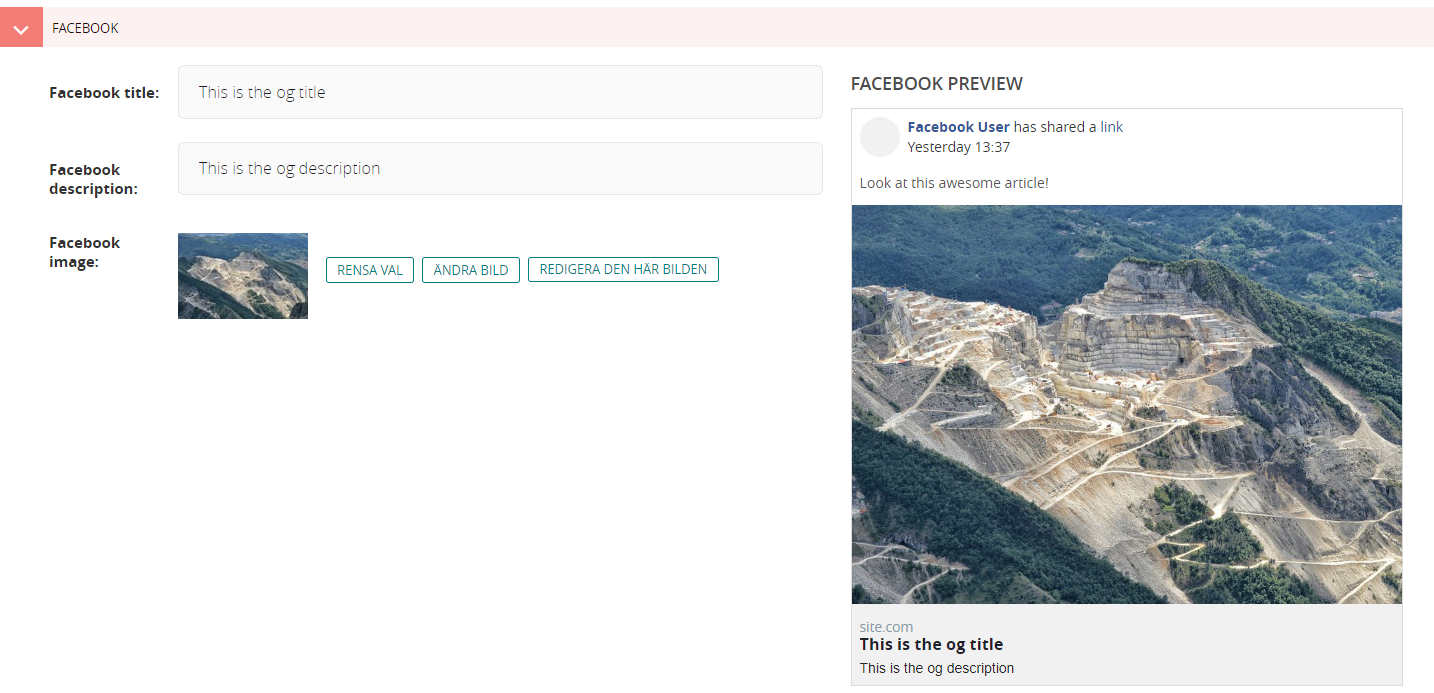 Documentation
Development
Dev server
The easiest way is to clone this repo, cd into it and just docker-compose up, this should start a server on http://localhost:8123/admin/ (user: admin, pw: admin) with a couple of page types to test with.
Running tests
docker-compose exec web python runtests.py
License
Wagtail Meta Preview is released under the MIT License.
Project details
Download files
Download the file for your platform. If you're not sure which to choose, learn more about installing packages.
Source Distribution
Built Distribution
Close
Hashes for wagtail-meta-preview-3.0.0.tar.gz
Hashes for wagtail-meta-preview-3.0.0.tar.gz

| Algorithm | Hash digest | |
| --- | --- | --- |
| SHA256 | 5c9732f4b919d476781e4e80751a41e75726c374f49803d3393e9f46524277a4 | |
| MD5 | de592413d31066225f5eb1b3cec26166 | |
| BLAKE2b-256 | be031019500da74e8d21639718a289cf71ee7a7b80f397878ac86b690eb95222 | |
Close
Hashes for wagtail_meta_preview-3.0.0-py3-none-any.whl
Hashes for wagtail_meta_preview-3.0.0-py3-none-any.whl

| Algorithm | Hash digest | |
| --- | --- | --- |
| SHA256 | 5a64742ea93f2a994393bafbc1efa7eebbb0f4909c6c35ef58fe06e5a5d060a7 | |
| MD5 | 50ead00639c391f723ebfed9ed1b1b5e | |
| BLAKE2b-256 | bff131f4f9538aeecec94182b229453dc52b828be1bb67a46b1df7bdde062e4e | |