phase genomic variants using DNA sequencing reads
Project description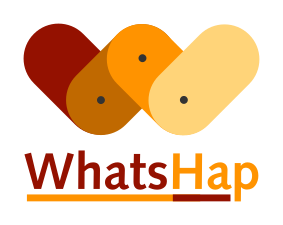 WhatsHap
WhatsHap is a software for phasing genomic variants using DNA sequencing reads, also called read-based phasing or haplotype assembly. It is especially suitable for long reads, but works also well with short reads.
Features
Very accurate results (Martin et al., WhatsHap: fast and accurate read-based phasing)

Works well with Illumina, PacBio, Oxford Nanopore and other types of reads

It phases SNVs, indels and even "complex" variants (such as TCG → AGAA)

Pedigree phasing mode uses reads from related individuals (such as trios) to improve results and to reduce coverage requirements (Garg et al., Read-Based Phasing of Related Individuals).

WhatsHap is easy to install

It is easy to use: Pass in a VCF and one or more BAM files, get out a phased VCF. Supports multi-sample VCFs.

It produces standard-compliant VCF output by default

If desired, get output that is compatible with ReadBackedPhasing

Open Source (MIT license)
Documentation
Read the documentation online. Offline documentation is available in the doc/ subdirectory in the repository and in the downloaded tar distribution.
Issue tracker
Please do not hesitate to use our issue tracker for bug reports and feature requests.
Project details
Download files
Download the file for your platform. If you're not sure which to choose, learn more about installing packages.
Source Distribution
Built Distributions
Close
Hashes for whatshap-2.0-cp311-cp311-manylinux_2_17_x86_64.manylinux2014_x86_64.whl
Hashes for whatshap-2.0-cp311-cp311-manylinux_2_17_x86_64.manylinux2014_x86_64.whl

| Algorithm | Hash digest | |
| --- | --- | --- |
| SHA256 | bef2a4460ef4fa660fa41ae443a6ebfb8dc17fda8ed45600ebf76e6f0cb5b4ec | |
| MD5 | b013318457892835ea57d46ca9f6ffe9 | |
| BLAKE2b-256 | 284cc2a9597d07eadbcf8427ec843cc784f572603292ee9bbb339fd79cea5075 | |
Close
Hashes for whatshap-2.0-cp310-cp310-manylinux_2_17_x86_64.manylinux2014_x86_64.whl
Hashes for whatshap-2.0-cp310-cp310-manylinux_2_17_x86_64.manylinux2014_x86_64.whl

| Algorithm | Hash digest | |
| --- | --- | --- |
| SHA256 | c1bd21b02213fff575cddacf2ecbfbad47aabb8be824411f615a5dd8ee7d7a0c | |
| MD5 | 2bdc1412eddce9390b5525016193f95e | |
| BLAKE2b-256 | e24eb4bf39415abe9944df3062b4e9c1c8ce901cae6ba1b3780d0a3c23c3e146 | |
Close
Hashes for whatshap-2.0-cp39-cp39-manylinux_2_17_x86_64.manylinux2014_x86_64.whl
Hashes for whatshap-2.0-cp39-cp39-manylinux_2_17_x86_64.manylinux2014_x86_64.whl

| Algorithm | Hash digest | |
| --- | --- | --- |
| SHA256 | 32fe89cf90f437344ba356fabd7e45d57e0c89d0b5434a23045c6116d5655f3d | |
| MD5 | 169bef0e9bfd3ea0ad094249ddc73e3e | |
| BLAKE2b-256 | 8e5d9af0551ffaa026d33b612a1bdfccdeabc4b93fd0af6313b57671aea0648a | |
Close
Hashes for whatshap-2.0-cp38-cp38-manylinux_2_17_x86_64.manylinux2014_x86_64.whl
Hashes for whatshap-2.0-cp38-cp38-manylinux_2_17_x86_64.manylinux2014_x86_64.whl

| Algorithm | Hash digest | |
| --- | --- | --- |
| SHA256 | ec25bdc26b2f2672e38d01741ee4c3b85f478a25901012ff7a8dc46d2057a25a | |
| MD5 | 9f7aa95e5f909e19aef0650c96392301 | |
| BLAKE2b-256 | 48aa31e1727bb7f7f770df8192d2aa096d988d0a4345e3842c89c32badedd7a9 | |
Close
Hashes for whatshap-2.0-cp37-cp37m-manylinux_2_17_x86_64.manylinux2014_x86_64.whl
Hashes for whatshap-2.0-cp37-cp37m-manylinux_2_17_x86_64.manylinux2014_x86_64.whl

| Algorithm | Hash digest | |
| --- | --- | --- |
| SHA256 | 820ebc7a4a832c245bc74b578dfaf6edfc5743c37de8f9bbbfbcc5dd36c99957 | |
| MD5 | 2378940b9b40db857dac19a72edea659 | |
| BLAKE2b-256 | faf145172b5e64640fa04cdc3af57fc9848cf5d94d163dee6646a9aae67dfccb | |