Turn (almost) any command line program into a full GUI application with one line
Project description
Turn (almost) any Python Console Program into a GUI application with one line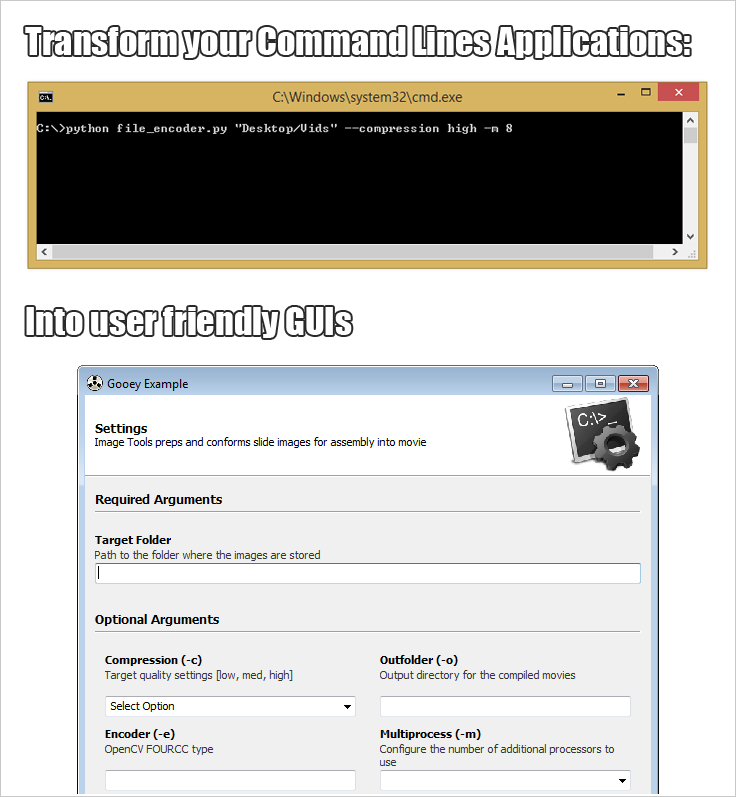 Quick Start
Gooey is attached to your code via a simple decorator on your main method.
from gooey import Gooey
@Gooey      <--- all it takes! :)
def main():
    # rest of code
With the decorator attached, run your program and the GUI will now appear!
Checkout the full documentation, instructions, and source on Github
Project details
Download files
Download the file for your platform. If you're not sure which to choose, learn more about installing packages.
Source Distribution
Built Distribution
Close
Hashes for Gooey-1.0.8.1-py2.py3-none-any.whl
Hashes for Gooey-1.0.8.1-py2.py3-none-any.whl

| Algorithm | Hash digest | |
| --- | --- | --- |
| SHA256 | 222793cf4a5dd2f9d5c3174ad7369c3df541d91a49e54d51bbee95745ed75ae2 | |
| MD5 | 377a4f08f945bbe5677095b5f873140f | |
| BLAKE2b-256 | 21032d0fc5f982f085ab72c56caa27238339a28419c0da716add1c5e1cf2fa99 | |