Libraries used by different packages
Project description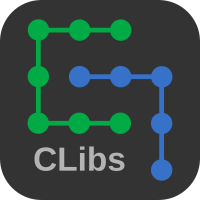 CommonLibs is a Python library package providing general tools used by other applications. CommonLibs provides the following sub-packages.
fileio Tools for simpler file path handling.

logger Consistent logging across different Python packages.

math Vectors manipulations.

dicts Dictionary tools.
Installation
pip install commonlibs
Project details
Download files
Download the file for your platform. If you're not sure which to choose, learn more about installing packages.
Source Distribution
Built Distribution
Close
Hashes for commonlibs-0.6.3-py3-none-any.whl
Hashes for commonlibs-0.6.3-py3-none-any.whl

| Algorithm | Hash digest | |
| --- | --- | --- |
| SHA256 | cd02143927746ad7f0dc3c10ed11b99efe49bdc5ae15476b7b92a5408cb319bc | |
| MD5 | 0989d8fcd6744b0056c9847df2ace787 | |
| BLAKE2b-256 | e953f200a9c7f11e104fced202e51e5120fa2efd2fc9a5014075b89a19d3c184 | |