A Datasette plugin that provides tools for generating charts using Vega
Project description
datasette-vega
A Datasette plugin that provides tools for generating charts using Vega.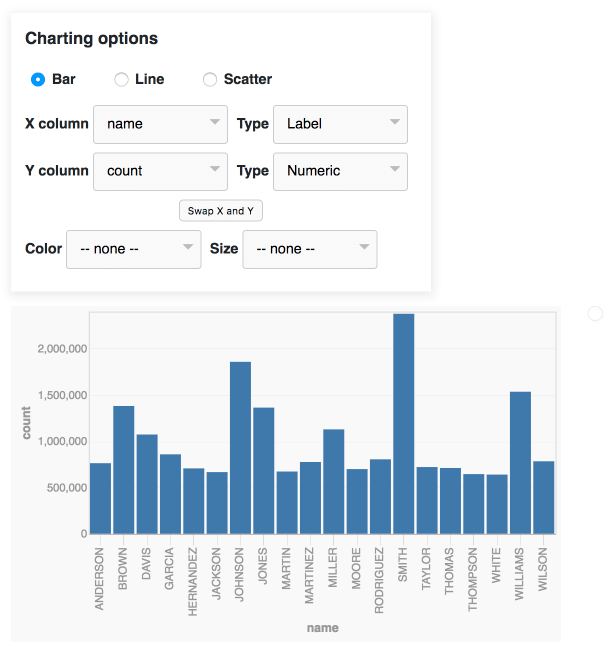 Try out the latest master build as a live demo at https://datasette-vega-latest.datasette.io/ or try the latest release installed as a plugin at https://fivethirtyeight.datasettes.com/
To add this to your Datasette installation, install the plugin like so:
pip install datasette-vega

The plugin will then add itself to every Datasette table view.
If you are publishing data using the datasette publish command, you can include this plugin like so:
datasette publish now mydatabase.db --install=datasette-vega

If you don't want to install any software at all, you can publish your CSV files with Datasette and activate this plugin using the web application at https://publish.datasettes.com/
Project details
Download files
Download the file for your platform. If you're not sure which to choose, learn more about installing packages.
Source Distributions
Built Distribution
Close
Hashes for datasette_vega-0.6.2-py3-none-any.whl
Hashes for datasette_vega-0.6.2-py3-none-any.whl

| Algorithm | Hash digest | |
| --- | --- | --- |
| SHA256 | 6aca6a40f0b244d6d05548bfff94a99f0ef96bd5b89ade241f0d389f7a01a063 | |
| MD5 | 3dd35102cc52576f25615e4c94d5bf1b | |
| BLAKE2b-256 | d09e7496dfa4f7e2ce93a036fe9920dcbd71c7297783d2337fe85f1fef9f6786 | |