A simple text editor made by tkinter.一款使用tkinter编写的文本编辑器程序。
Project description
简介 Introduction:
A open-source text editor written in Python.
It supports editing text files,binary files with various encodings
which can be automatically detected.
When you edit a binary file, the contents of the file are displayed as escape sequences.
You can find and replace words.You're also able to choose themes you prefer.
In addition, code highlighting is supported when editing Python code files,like IDLE.
What's more, dragging and dropping files into the editor window is now supported.
一款使用tkinter编写的开源文本编辑器, 支持编辑文本文件、二进制文件、自由选择主题。
支持ansi、gbk、utf-8等编码, 以及调用chardet库自动检测编码。
编辑二进制文件时, 文件内容以转义序列形式显示。
支持查找、替换; 且支持撤销、重做; 支持将文件拖放入窗口。
可自由选择主题和字体, 改变字体大小。
编辑python代码文件时, 支持代码高亮显示, 类似IDLE。
作者: qfcy (七分诚意) 作者CSDN主页: https://blog.csdn.net/qfcy_/
版本:1.3.4 (改进: 新增了显示/隐藏菜单栏功能, 在二进制模式下可提高速度。 修复了保存配置的bug。)
源代码: https://github.com/qfcy/Python/blob/main/pynotepad.pyw
程序原文链接: https://blog.csdn.net/qfcy_/article/details/118399185
效果图: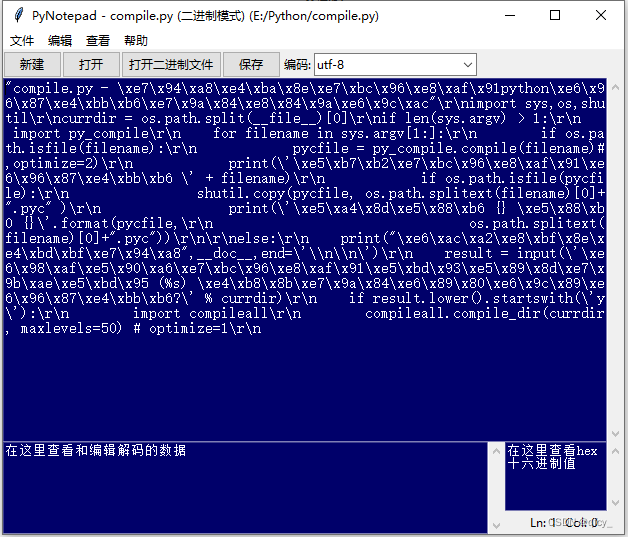 Project details
Download files
Download the file for your platform. If you're not sure which to choose, learn more about installing packages.
Source Distribution