Project description
Beautifier
Install this package : pip install pybeautify
Open the python console and type : import beautify
Beautifier is a windows application for arranging the files within a folder.
Everybody want their files to be arranged in an organized way within a folder.
So let's see an application that does this for us.
Let's have a look at the folder in which the files are not well organized 🤢.
Before running the application.

Now let's see the same folder when the files within the folder are properly organized (Beautified)😍.
After running the application.

So how to run the application 🤔.
You can either clone this repository or download only the installer
For better user experience try the installer.
Once after downloading the installer / cloning the repository.
Run the application.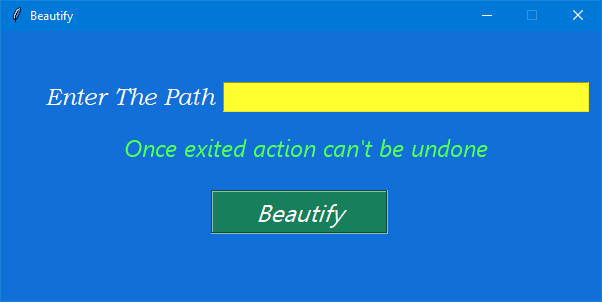 Copy the path of your target folder.

Paste the path in your application.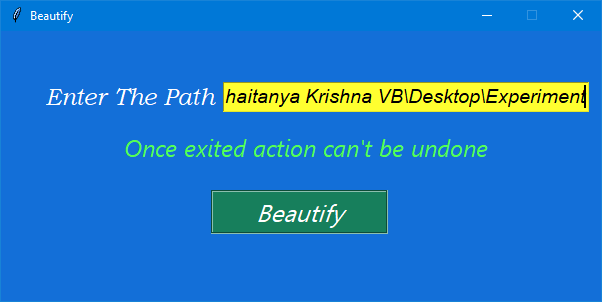 Click the Beautify button and see the magic happen.
In case if you need to undo the changes click the Undo Button and the changes will be reverted.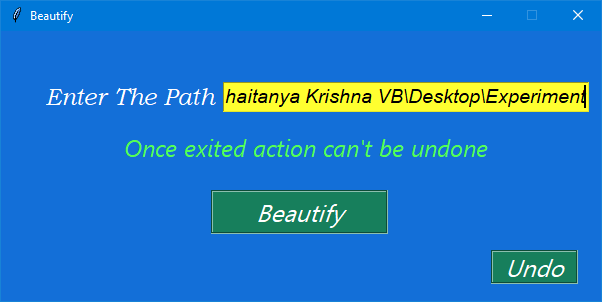 Files back to their initial state.

Project details
Download files
Download the file for your platform. If you're not sure which to choose, learn more about installing packages.
Source Distribution
Built Distribution