Re-implementation and packaging of PyPackerDetect
Project description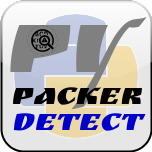 PyPackerDetect
Detect packers on PE files using heuristics and signatures.
A complete refactoring of this project to a Python package with a console script to detect whether an executable is packed.
pefile is used for PE parsing. peid is used as implementation of PEiD.
$ pip install pypackerdetect

$ pypackerdetect --help
[...]
usage examples:
- pypackerdetect program.exe
- pypackerdetect program.exe -b
- pypackerdetect program.exe --low-imports --unknown-sections
- pypackerdetect program.exe --imports-threshold 5 --bad-sections-threshold 5

Detection Mechanisms
PEID signatures
Known packer section names
Entrypoint in non-standard section
Threshhold of non-standard sections reached
Low number of imports
Overlapping entrypoint sections
Related Projects
You may also like these:
Project details
Download files
Download the file for your platform. If you're not sure which to choose, learn more about installing packages.
Source Distribution
Built Distribution
Close
Hashes for pypackerdetect-1.1.0-py3-none-any.whl
Hashes for pypackerdetect-1.1.0-py3-none-any.whl

| Algorithm | Hash digest | |
| --- | --- | --- |
| SHA256 | dfc4783c768e80b4dc9e945ce3e3b5e11cef194d03bb22b04474e02103c7df92 | |
| MD5 | 4b8b84ea574e2ea2283c8af132d7bf47 | |
| BLAKE2b-256 | 5a871c08cc529df7a98f0500a47c98b54be63b33c45ab333bed4f23bb6da81b9 | |