Devkit for quickly building CLI tools with Python
Project description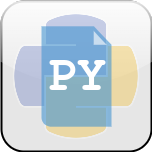 TinyScript
Make a CLI tool with very few lines of code.
This library is aimed to provide useful features and helpers in order to shorten the number of required lines of code for writing simple and nice-looking command-line interface tools. It is based on argparse and is considered a development kit, on the contrary of popular frameworks like cement, click or docopt, as it is not aimed to reinvent the wheel in yet another paradigm.
pip

 

install

 

tinyscript

Philosophy
This library is built with the DRY (Don't Repeat Yourself) and KISS (Keep It Stupid Simple) philosophies in mind ; the whole machinery of Tinyscript holds in its star import (from tinyscript import *) and its initialization (with the initialize function).
It is aimed to shorten required code by setting a few things while loaded:
Leveraging this allows to create very short scripts with only the real code that matters, reducing the code to be rewritten to create efficient, nice-looking and sophisticated CLI tools.
Note that, while star imports should be avoided according to Python's style guide (see PEP8), it is deliberately extensively used and covering a huge scope in order to shorten code length. This "anti-pattern" pays off after creating a few tools, when we can realize it shortens parts of the code that are often repeated from a tool to another (e.g. for shaping tool's help message).
Usage
It is designed to be as simple and straightforward to use as possible. In order to learn and use it, you only need your browser (for consulting the documentation), a text editor and a good Python Interpreter (e.g. IDLE) for using auto-completion or an IDE like PyCharm to get helpers suggested.
The point is that you will use:
Please see the example tools herebelow for examples of usage of features, helpers and reporting.
Quick Start
Create from template
Edit source
Run your tool
Example tools
Security
Utils
Project details
Download files
Download the file for your platform. If you're not sure which to choose, learn more about installing packages.
Source Distribution
Built Distribution
Close
Hashes for tinyscript-1.29.5-py3-none-any.whl
Hashes for tinyscript-1.29.5-py3-none-any.whl

| Algorithm | Hash digest | |
| --- | --- | --- |
| SHA256 | 9ca5689350c33f0fd93705a575f17fbec13632fb76658b7267474e9276846302 | |
| MD5 | d8fa08ac45691149b42f41509ba7e24e | |
| BLAKE2b-256 | ac868e6438fe452fa8fb24544a304e41fd59a0ba55d7a80fff6d6f08b331ee23 | |